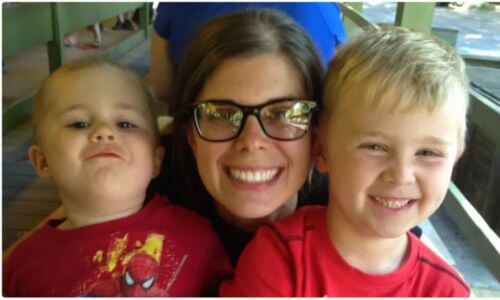 Come visit Tara's Reading Garden and sit for a while!
The garden is dedicated to the memory of a very special woman, Tara Carr Erney, who died on October 16, 2021, after bravely fighting brain cancer for 18 months. She was 36 years old. She described herself as "a mother of boys, wife to Keith, a grower of food, a knitter of yarn, reader of everything, and beginner in farming." Her personal goal to read 52 books per year sets a high bar that most dedicated readers cannot reach! Infused with love, a passion for reading, and a genuine zest for life, Tara's extraordinary legacy inspires us to find joy in life's simplest treasures.
In early Spring 2023, the Library transformed the small, plain side yard on the West Pine side of the building into a truly special memorial garden and outdoor event space.  Landscapers removed hazards like raised tree roots and exposed PVC drain pipes and added a smooth concrete pad to give adults and children with mobility challenges access to the space and to make it usable after wet weather. (Please scroll down to see the landscaper's sketch of plantings.)
It was Tara's wish that donations in her memory should go to the Bloomsburg Public Library.  It was important to Keith and the family that the memorial fund have a lasting, positive impact. 
"Before" and the Current "After"
Together, Tara's family and the Library decided to invest the what became a considerable memorial fund to create an outdoor "room" at the library. Tara's deep commitment to green living and sustainability guided the planning of a "reading garden" with native plants.
We are excited to have a lovely, safe outdoor space for programs and events starting in late May 2023.  Visitors to the library are welcome to sit for a while to read, knit, eat, or just people-watch. We are planning to hold programs outside on pleasant, warm days. Tara's Garden enhances our Downtown area, too. 
Tara's deep commitment to green living and sustainability guided the design of the garden. It features plants native to North East United States, a gracefully curved patio, elegant furniture made from recycled plastic, and a tall fence to keep children safely inside the space. Flower pots and a spinner that catches the wind add pops of color. A small pollinator garden will support the Downtown biological ecosystem. Keith Erney built three raised planter boxes so that children will learn about growing vegetables and garden flowers. The garden's hardscaping provides easy access for persons with mobility issues and parents with strollers.
The Garden project was supported entirely by donations. Tara's husband set up a GoFundMe account to help the Library Director process many individual donations – he expected to raise $1,000. That amount was quickly surpassed! Family, friends, and strangers donated $28,000. That's a lot! Nevertheless, an "urban" pocket garden is much more expensive to install than most people expect! Tara's Garden is ADA compliant and built to commercial building code standards.  That means architects, surveyors, permits, and more.  The Friends of the Library generously pledged $10,000 to help us pay for the installation.
Still to come: We will add seating and small tables made of recycled plastics in June of 2023. Shade sails for sunny afternoons will have to wait until the Spring/Summer of 2024.
Our heartfelt gratitude to Keith Erney, the extended Carr-Erney family, Tara's many friends, the Friends of the BPL, and many other donors for making this transformation possible.  LIVIC Civil donated the services of their landscape architect, and our contractors did their best to help us get the most for our investment.  Thanks to Native Creations, Anthony LoBello Masonry, and Suburban Fence for building the the garden in just a few weeks so that we could use it as soon as warm weather arrived.  
To make a donation to the Tara Erney Garden Fund follow this link to donate online: https://bit.ly/Tara-Erney-Fund